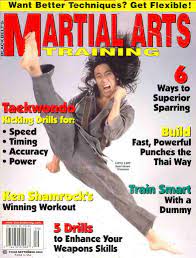 Larry Lam
Master Lam is Mr. Albracht's Taekwondo instructor and competition coach.
1989 Rookie of the year
1989-90 Top 4 in the open Division by NASKA
1993 First Place: LA Nationals / Mile High Classics / E.S.N. / Battle of Atlanta
Second Place: Boston Nationals / Blue Grass Nationals / US Open, Florida / Forms by NASKA
Eleventh Place: Supe Lightweight Fighting by NASKA
1994 First Place: LA Nationals
Second Place: Mile High Classics
Grand Champion: South Bay Open, Golden Coast Classics, Southern Championships
20 Time NASKA Gold Medallist
AKKF Hall of Fame
A martial arts Hall of Famer and recipient of numerous awards, honors, and titles worldwide, Mr. Lam has performed roles in over 100 films alongside such stars as Dwayne "Rock" Johnson, Vin Diesel, Ludacris, Halle Berry, Jennifer Garner, Keanu Reaves, Owen Wilson, Uma Thurman, Reese Witherspoon, Will Smith, Lucy Lui, Ben Affleck, Tom Cruise, Jackie Chan, and Jet Li. Notable films include The Fast and Furious 5, 300, Gi Joe, X-Men: The Last Stand, Elektra, Blade: Trinity, I Robot, Paycheck, Chronicles of Riddick, The Last Samurai, Matrix, Shanghai Noon, Romeo Must Die, and Teenage Mutant Ninja Turtles II & III.
He is also skilled as a Stunt fighting and Fight Choreographer, as well as a Stunt Coordinator.
Larry owns Kickstudio in Saratoga, California, and lives with his wife, Leslie, and son, Keanu.
SPECIAL SKILLS AND TRAINING
25 + years martial arts experience
Black Belt Level
20 – time NASKA Gold Medalist
Top 10, NASKA Super-Lightweight Fighting
NASKA Rookie of the Year
IKKF Hall of Fame
Dynamic Kicks, all expected abilities
Machine Gun Kicks
Former Member of Team Ma-Cho International Team
Fight Choreography: "Hong Kong" style fights and reactions
Former member of John Paul Mitchell National Karate Team
Seven years professional international competitor
Various Chinese and Japanese Weaponry (i.e.: bo staff, kama, swords, etc…)
Tae Kwon Do, Karate, Kickboxing, Boxing, Trapping, etc…
Featured Performer in over 100 professional live shows and events
Trained the Australian, Guatemalan, Jamaican and Canadian National Teams
17 years business experience: owner/operator